EVEREST FILM STUDIO
---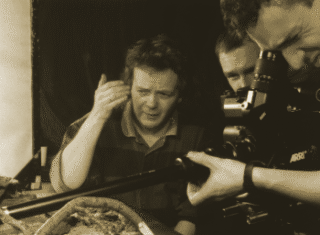 Was founded by Mirosław Dembiński on 3rd September 91. Within the almost twenty years of its existence it has produced over 50 films and film series. Altogether over 30 hours of broadcast. The Studio deals with production and distribution of films and the range of its activity is very wide: documentary, reports, short fiction, promotion films and advertisement.
The Film Studio Everest specializes in documentary films made for the television. It co-operates regularly with the Polish television TVP (the editorial office of documentary at First Channel and Second Channel, the editorial office of the Culture, the Educational Television and the editorial office of the Army Programmes, Belsat), Canal+ Poland (documentary and short fiction film), and also with the Educational Film Producers and Film School. Apart from the television, the productions are financed by the Polish Ministry of Culture, Polish Film Institute (PISF), social organizations and foundations and from Media Plus Programme (European Union). In 1995 the Film Studio Everest started an international co-production. It co-operates with the Centre Nationale de la Cinematographie (France), Epo Film (Austria), Zyga Films (Venezuela), Shoot the Breeze Production (South Africa) and others.
Films made by Film Studio Everest were broadcasted on TVP (Poland), Canal+ (Poland), Canal+ (France), BBC-South (England), ZDF (Germany), ARTE G.E.I.E. (France-Germany), SDR (Germany), MDR (Germany), ORF (Austria), SlovakTV (Slovakia), LRT (Lithuania), LTV (Latvia), ETV (Estonia), BNT (Bulgaria), RTS (Serbia and Montenegro), HRT (Croatia), Documania (Spain), Canal 5 (Ukraine), ERT (Greece), YLE (Finland), Al-Jazeera English (Great Britain), YES/DBS (Israel), Czeska Telewizja (CT) (Czech Republic), Canal de Historia (Spain), Sveriges Utbildningsradio (Sweden).