KRASNOLUDKI JADĄ NA UKRAINĘ 44/05
DWARFS GO TO UKRAINE
---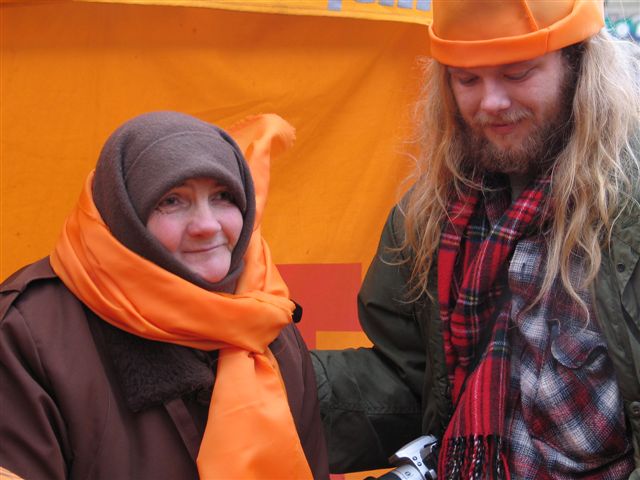 screenplay and direction: Mirosław Dembiński
photography: Michał Ślusarczyk
Maciej Szafnicki
Szymon Lenkowski
editing: Mirosław Dembiński

2005 / Betacam / 55 min




In the 80's Polish dwarfs contributed to the ending of communism and Berlin Wall collapse. When the "Orange Revolution" began in Ukraine, the dwarfs took it upon themselves to support it - an orange bus left Warsaw heading towards Kiev. They took with them two chocolate heads; each representing the presidential candidates, Yushchenko and Yanukovich (so that the people could 'taste of power'), a 200-metre long orange banner with supporting statements and an orange scarf which was knitted by Poles and Ukrainians on the way to. They hung the 15-metre long orange scarf around the neck of the new president of Ukraine.
PRIZES:

Audience Award at the Polish-wide Independent Review of Documentary Films "Nurt 2005" in Kielce (Poland) 2005
OPINIONS:

"Dwarfs Go to Ukraine" | Kino
Very simple in its structure the report turned out to be sophisticated and interesting, multi-faceted in its exploratory fashion and also a deeply moving documentary of what happened, whose historical significance cannot be overestimated. Mirosław Dembiński didn't just give his own take on the historical fall but a passionate film plot, which unfolds along to recognizable Polish and Ukrainian beats, and culminates in two hundred thousand gathering in Independence Square in Kiev.


"Dwarfs Go to Ukraine" | Rzeczpospolita
"An instrumental by a camera quartet"
Family gatherings, street demonstrations, the drama of election night and common scenes filmed by four cameras. Mirosław Dembiński presents an emotional one and a half-hour long documentary thrown together from 78 hours of footage.