PUSTELNICY W GÓRACH 52/08
PUSTELNIKS IN THE MOUNTAINS
---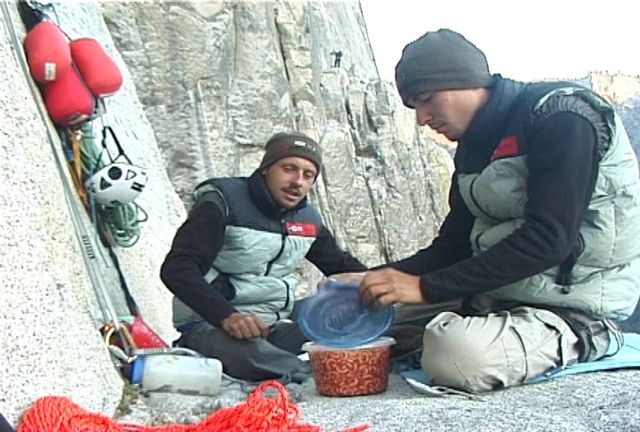 screenplay and direction: Mirosław Dembiński
photography: Maciej Szafnicki, Dariusz Załuski
editing: Mirosław Dembiński

2008 / Betacam / 59 min



Film presents Pustelnik's family whose all life is connected with the mountains. The father is one of the most outstanding Himalayan climber, the sons are rock climbers.
For father, the most important values of the mountain ethos are: partnership, nobleness and responsibility. Sons belongs to the generation of young people, who climb the mountains for fun, emotions and adrenaline.
They dress differently, behave differently, listen to different music and use different vocabulary. They are at the extremes of the mountaineering activity. However, after removing surface differences, the force that pushes them into the mountains is similar. The core of their motivation is the same.
PRIZES:

Prize of Chief of TORP (Tatra Mountains Rescue Team) at the Mountain Film Review in Zakopane (Poland) 2008


Grand Prix at the Mountain Film Review in Lądek Zdrój (Poland) 2008


Audience Award at the Mountain Film Review in Lądek Zdrój (Poland) 2008


Grand Prix at the International Mountain Film Festival in Bansko (Bulgaria) 2008


Prize for the Best Documentary at the Optimistic Film Festival "Multimedia HAPPY END" in Rzeszów (Poland) 2009
OPINIONS:

"Pustelniks in the mountains" | Zakopane - the jury's verdict
The film's heroes, who are experts in alpinism, are not introduced in a heroic manner, but in a way that emphasizes their humanity stemming from their everyday problems and fears. Two parallel stories explore the relationship between father and sons, in which emotions play a special role between people – more important than an active feat.

"Pustelniks in the mountains" | www.goryonline.com
The film is witty and the whole life of "Pustelniks in the Mountains" is shown from a great distance, that mountains are only a setting for everyday conversations, situations, etc. The form is atypical, which makes it original and fresh. Personally, I remember the part when the boys can't believe that they bought rice which should be boiled for 40-45 minutes or when they are trying find out whether it was a bear that broke the glass in the car. A nice film – I recommend it.